Mason Industries - Stainless Steel
Mason Industries is konwn throughout our industry as one of the pioneers of the Vibration Isolation market. Through relentless product testing and development we are able to provide a reliable and time tested product that is backed by the Mason Industries brand. 
Our Engineering department will work tirelessly to provide signed and sealed calculations along with layout drawings and specifications for any of your projects.
We offer our thanks to every contractor and manufacturer who forms our customer base. We believe they favor us because of the practicality of our designs and lower installed cost when product works the first time. We stand behind what we sell as no other competitor. We thank our whole representative organization for their hard work, professionalism, integrity and loyalty. We look forward to serving you. Diversified Fluid Controls is proud to be the exclusive representative for Mason Industries here in South Florida.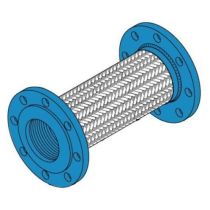 Flexible Hoses
Models: MN, MN-UL, MNDU, MNSS, MNSS-NSF, CSAMN, FFL, FFL-UL, FFL2B-300, FFLSS, FFLSS-NSF, CSAFFL, RFFL, GWNF, GWNF-UL, GWN, GWN-UL, CSAWN, CPSB, CPSB-MG, SPSB-NSF, ULCPS
---
Stainless Steel Flexible Connectors contribute to the solution of vibration, noise, expansion and offset motion problems in piping systems. Assemblies are designed for both high and low temperatures, as well as high pressure and full vacuum. Stock sizes include 1/2" (13mm) through 16" (400mm) pipe diameter. Temperature ranges are from below 0°F (-18°C) to 850°F (454°C) when using our standard 304 stainless steel. On rare occasions, when temperatures as high as 1500°F (816°C) are needed, Type 316 or 321 are available too. Most standard construction is single braided, but we can provide double braid for higher pressures or omit the braid for low pressure venting or exhaust applications.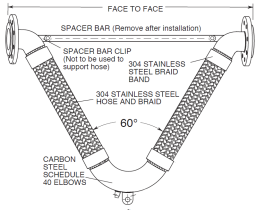 Vee Assemblies
Models: VFL, VFL-UL, VGWN, VGWN-UL, WMN, CSAVWN, CSAVFL, VGWN-UL, CSAVMN, VMN-UL, VFLSS, VFLSS-NSF, VMNSS, VMNSS-NSF, VCPSB, VCPAN-NSF, VCPSB-MG
---
Many buildings are separated by expansion joints through the walls and floors. During an earthquake, the two adjacent parts resonate with relative motion of as much as ± 4" (100mm) in shear as well as toward and away from one another. Vertical motion is minimal. We have developed a unique product to handle this seismic motion. Our Vee construction is based on two 30, 60, 90 triangles complimenting one another to form a 60° "Vee" at the bottom. We thought the concept so interesting that we tooled up for these fittings rather than use the common 45°, 90° and 180° configurations. Since it may be necessary to fit these Vee's at odd angles, depending on space conditions, we have floating ASA 150 carbon steel flanges on both ends. No competitive product can be rotated this way.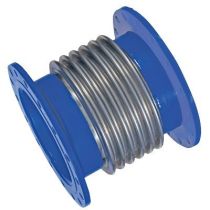 Expansion Joints
Models: EFL, EW
---
Many expansion joints are custom manufactured to diameters as large as 8 feet (2.4m). The construction varies, depending on the operating pressure and the required movements. We can provide these unusual constructions in virtually every configuration. We can build to your specific product description or complete our own recommendations based on your movement and pressure requirements.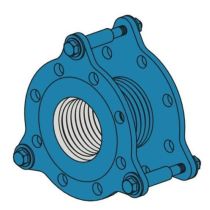 Bellows Pump Connectors
Models: RFB
---
All bellows differ from Stainless Steel Hose in the corrugation configurations. Bellows are deeper and wider, and they are made of heavier material, to handle the pressures without braid. A very common location for our 2 ply Bellows is at the pumps. The face to face dimension is equal to the length of most Single Sphere Rubber Molded Expansion Joints. This product should be used when a combination of short length with greater movement capabilities along with the other benefits of stainless steel (high temperature and pressure) are required. If the equipment is solidly mounted, and there is an anchor somewhere in the line on the other side of the bellows, they will accept 1" (25mm) of compression and 3/8" (9mm) of elongation. Transverse movement varies between 1/8" (3mm) and 3/8" (9mm), depending on diameter.
Expansion Compensators
Models: ECFFL, ECMN, ECGWN, ECCPS, ECCPS-NSF
---
Expansion Compensators and Housed Expansion Joints are basically a bellows that is protected by and guided within a pipe housing. While the industry offers two styles, one of which is referred to as "internally" and the other "externally pressurized", they both serve the same function but we prefer the "externally pressurized" for improved bellows stability. They are furnished with a Fixed ASA150 Drilling Raised Face Carbon Steel Flange on the one end and a Floating Flange on the other. The alternates are Carbon Steel Threaded Nipples, Weld or Grooved Ends or Copper Female Sweat Ends as needed.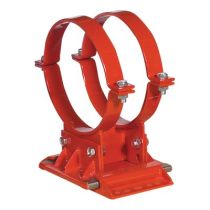 Piping Guides
Models: ASG, SPG
---
Our newly developed Adjustable Sliding Guides offer many improvements over other guides: one size guide for all thicknesses of insulation, less friction with our Stainless Steel Slides, sturdier construction and they can be used as load supports as well. We still carry spider guides as well. Anchors are manufactured to order.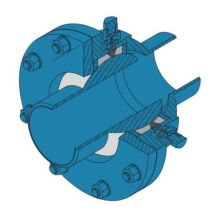 Ball Joints
Models: BJW, BHF
---
When ball joints are installed at each end of a pipe offset, the system can accommodate much larger movements with much lower anchorage requirements than solid pipe in the same configuration. We not only sell our flanged and weld end ball joints, but we engineer the systems should there be no specifications or if specifications call for design by vendor.