Mason Industries - Hangers
Mason Industries is konwn throughout our industry as one of the pioneers of the Vibration Isolation market. Through relentless product testing and development we are able to provide a reliable and time tested product that is backed by the Mason Industries brand. 
Our Engineering department will work tirelessly to provide signed and sealed calculations along with layout drawings and specifications for any of your projects.
We offer our thanks to every contractor and manufacturer who forms our customer base. We believe they favor us because of the practicality of our designs and lower installed cost when product works the first time. We stand behind what we sell as no other competitor. We thank our whole representative organization for their hard work, professionalism, integrity and loyalty. We look forward to serving you. Diversified Fluid Controls is proud to be the exclusive representative for Mason Industries here in South Florida.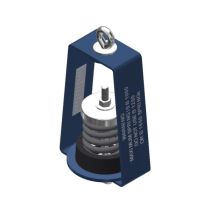 Spring Hangers
Models: HS, DHS, WHS
---
The HS & DHS Spring Hangers evolved using our standard A, B and C Springs and seating them in LDS cups with projecting bushings to line the hole in the lower end of the box. A, B and C Springs are designed for horizontal stiffness as described on Page 1, 4, 5 and 8 of Bulletin SLF-200, so they do not fall over or buckle. Centering the spring in the acoustical cup made steel-to-steel contact of the rod and the top steel cup unimportant and put the rubber in the right location on the leaving end of the spring. Also available with 30 degree swing Models: 30, 30N, PC30, PC30S, RW30, W30, 30N, PC30N, PC30NS, RW30N, W30N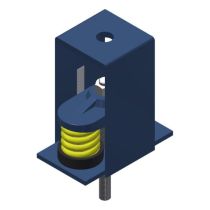 Pre-Compressed Spring Hangers
Models: PCHS, PCDNHS, PC-30, PC-30N
---
When these hangers are released, they have the same vibration isolation characteristics as the standard versions. They have the advantage, however, of being preloaded in our shop by means of the washer and adjustment nut on the bottom. The spring deflection is shown on a scale inside the box so you know both the rated load and the deflection. A precompressed 1000 pound hanger acts as a rigid connection during installation unless the load exceeds the 1000 pounds(454kgs). Therefore, the installation may proceed in much the same manner as one with solid rods. This is particularly important when installing large diameter (6"(152mm) and over) pipe where the changes in elevation that would occur with ordinary spring hangers have forced contractors to install the piping systems solidly and then cut the rods and install the spring hangers later.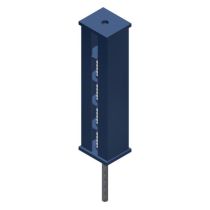 Pipe Expansion Hangers
Models: HES
---
HES Hangers are installed at riser suspension points to control load shifts as the riser expands or contracts. If a 120 foot(37m) steel riser goes through a temperature increase of 150°F(66°C), the piping will expand 1.4″(36mm). If the piping had an anchor point in the basement, the piping bracket at the 60'(18m) elevation and the top bracket would rise 0.7″(18mm) and 1.4″(36mm), respectively. This travel would transfer the entire piping weight to the basement as the piping would lift off non-resilient support points. Standard 1″(25mm) deflection hangers would lose 70% of their load at the 60 foot(18m) point and the complete load at the top of the run. Therefore, HES Hangers are needed because of their higher initial deflection and travel capability. If HES Hangers with 4″(102mm) initial deflection were selected, the hanger at the top would lose only 35% of its load and the intermediate hanger only 18%. This would substantially reduce the load shift to the basement anchor.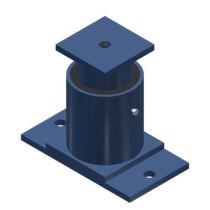 Pipe Guides & Anchors
Models: ADA, ADAH, VSG, VSGH
---
All-directional acoustical pipe anchors consist of two sizes of steel tubing separated by a minimum 1/2" (13mm) thickness of 60 Duro or softer neoprene. Vertical restraint shall be provided by similar material arranged to prevent up or down vertical travel. Allowable loads on the isolation material shall not exceed 500 psi (3.45 N/mm2) and the design shall be balanced for equal resistance in any direction. All-directional anchors shall be type ADA as manufactured by Mason Industries, Inc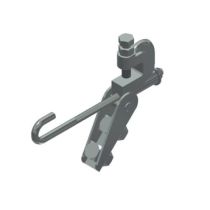 Seismic Bracing
Models: CCB, PCCB, SCBA, SRC, SCB, SCBH, SCBW, SSBS, SSB, SHB, SFB, JAH, UCC, SLDB, SAS, SASE, SAST
---
Seismic Cable Restraints shall consist of galvanized steel aircraft cables sized to resist seismic loads with a minimum safety factor of two and arranged to provide all directional restraint. Cables must be pre-stretched to achieve a certified minimum modulus of elasticity. Cable end connections shall be steel assemblies that swivel to final installation angle and utilize two clamping bolts to provide proper cable engagement. Cables must not be allowed to bend across sharp edges. Cable assemblies shall have an OPA preapproval from OSHPD in the State of California verifying the maximum certified load ratings. Cable assemblies shall be type SCB at the ceiling and at the clevis bolt, SCBH between the hanger rod nut and the clevis or equipment, or SCBV if clamped to a beam, all as manufactured by Mason Industries, Inc.