Polaris Plate Heat Exchangers
Plate heat exchangers from Polaris deliver effective, efficient performance in tough heat-exchange uses. HVAC. Industrial specialties. The custom demands of pharmaceutical and chemical manufacturers and food processors. Polaris means outstanding design and construction, reliable heat transfer, long life, economical daily operation, and limited repair/maintenance. Diversified Fluid Controls is a local distributor for Polaris Plate Heat Exchangers.
Many of the Polaris Heat Exchangers are AHRI Certified to provide guaranteed performance verified by an independent lab.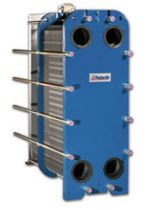 Plate and Frame Heat Exchangers
In any application, the Polaris provides the most economical, efficient plate heat exchanger design. You'll find exactly the plate configuration you need. Correct plate geometry, patterns, and connections enable us to customize ideal designs for HVAC, chemical processing, food processing, oil and gas refining, and many other uses. Multiple plate sizes are available for each connection size. Plate patterns are correctly suited to custom applications.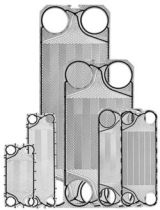 Semi-Welded Heat Exchangers
Polaris Semi-Welded Plate Heat Exchangers handle the jobs conventional plate exchangers can't touch – including ammonia refrigeration, CFCs, HCFCs, and aggressive process fluids. Resistant to stress and leakage, our semi-welded plate heat exchangers employ matched plate pairs (or cassettes) to isolate refrigerant or process fluids from the gasketing. And Polaris Semi-welded Exchangers are so efficient they need just one-fifth the refrigerant required by shell-and-tube exchangers to do the same work!
Double Wall Heat Exchangers
Get total separation of primary and secondary fluids with the Safety-Pair® Double-Wall Plate Heat Exchanger from Polaris. Paired plates create an air space, making leaks visible from outside. Leaks reach the atmosphere from between plates or from drain channels in the inlet/outlet areas. Media can't mix, and there's no risk of contamination. When plumbing codes require double-wall separation – or any time that's a critical element of a project - a Polaris Safety-Pair Double Wall Plate Heat Exchanger is your best, most economical choice.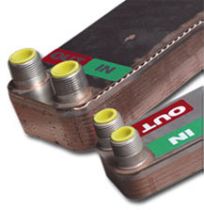 Brazed Plate Heat Exchangers
Ideal for refrigeration and process applications, Polaris brazed heat exchangers offer outstanding performance. Their gasket-free construction delivers high-temperature, high-pressure heat exchange capabilities in a sealed, compact package.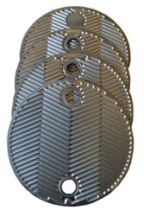 Shell and Plate Heat Exchanger
For specialized applications, the Polaris Shell and Plate Heat Exchanger delivers an engineered solution of great efficiency and effectiveness. Shell and plate units consist of an outer pressure vessel that encloses a fully-welded circular plate pack. The resulting heat exchanger is strong and compact. Like other welded heat exchangers, it is made gasket-free and without brazing. As such, it avoids the problems of leaks and corrosion that sometimes accompany gasketed construction.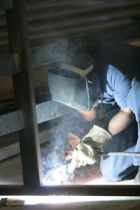 All-Welded Plate Heat Exchanger
For applications requiring aggressive media at high temperatures and pressures, Polaris All-Welded Exchangers are the definitive choice. The plate pack is all-welded and gasket free, helping to limit problems with leaks and corrosion through years of effective service.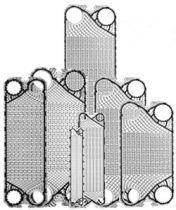 Free Flow Heat Exchangers
Polaris Free-Flow Plate Heat Exchangers accommodate viscous fluids or those containing fibrous materials or larger particles. Wide-channeled horizontal ribbed pattern with no metal-to-metal contact allows free flow of particles that can block other heat exchangers.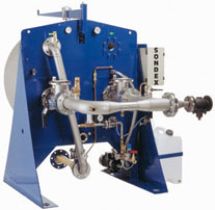 Fresh Water Generator
Utilizing the heat from diesel engine jacket cooling water, the Polaris Fresh Water Generator evaporates seawater to produce pure drinking water. This easily operated single-stage distiller incorporates low-maintenance materials that stand up to years of contact with corrosive seawater.