The Water Harvesting Solutions (Wahaso) team brings experience, skill and passion about water conservation to every client project. We incorporate a holistic approach in designing and building systems, working to integrate multiple sources of renewable water along with multiple uses of treated water to maximize total water savings.
It is our core competencies in system design, our experience, and our focus on only the commercial and institutional building market, that set us aside from other rainwater or greywater systems suppliers. To ensure that we can deliver a full-service solution to our clients, we have developed a team of seasoned experts in scoping, engineering, fabricating and delivering best-in-class water harvesting solutions.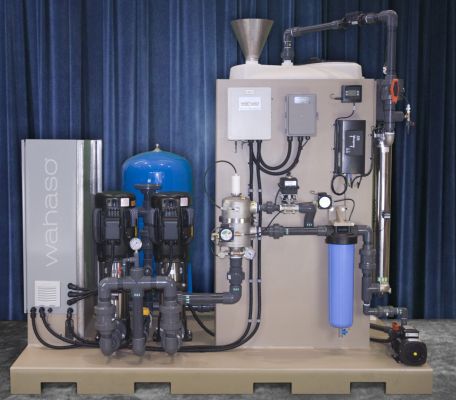 Commercial Rainwater Harvesting Systems
Models: RW-UV20-0, RW-UV30-300/500
---
The practice of harvesting rainwater dates back centuries and is still the most common type of water harvesting system. Wahaso specializes in designing and building rainwater harvesting systems for large-scale applications. Unlike the simple systems installed by other rainwater harvesting companies for homeowners, our rooftop rainwater harvesting systems are designed with the commercial-grade components and sophisticated controls required in commercial buildings for reliability, automated functions and connectivity to BAS systems. The Wahaso commercial rainwater harvesting systems produce treated water that is safe and suitable for non-potable applications such as toilet flushing, irrigation and cooling tower make-up.
---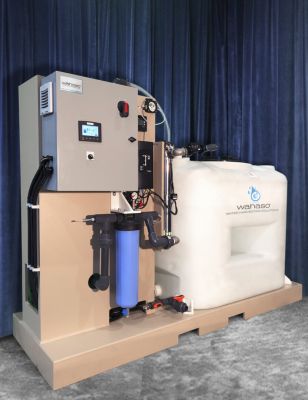 Condensate Collection System
 Models: COND-UV-20-250/500
---
Commercial buildings with forced-air cooling systems have the potential to generate condensate, a steady source of water that can be harvested for reuse. In air handling units (AHUs), as air passes over the cooling coils, moisture in the air condenses and drips into a pan below the AHU. In many cases, that water is sent to the sewer system, wasting a valuable source that can be treated and used for non-potable applications. A Condensate Water Recovery System can turn that wasted source into a usable source. Wahaso's condensate system is compact, pre-assembled and designed for easy installation.
---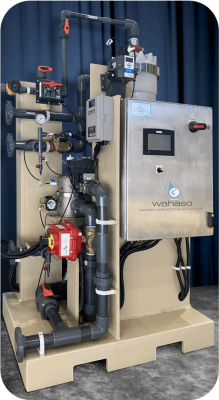 Stormwater Harvesting System
---
While "rainwater" and "stormwater" are terms that are often used interchangeably, there is a difference between the two. "Rainwater" is the relatively clean water coming from rooftops and "stormwater" is more contaminated water coming from landscapes, sidewalks, parking lots and other grade-level surfaces. Depending on the site, stormwater detention or stormwater collection areas can be quite large and often contain contaminants such as silt, hydrocarbons and fertilizers in their stormwater harvesting system. Increasingly, communities are requiring developers to manage their stormwater runoff in order to reduce the load on the local storm system with a stormwater management system.
Wahaso's stormwater system not only accommodates large quantities of stormwater but provides more robust treatment designed to handle difficult contaminants. The result is a system that provides a safe, treated supply of water that can be used for a variety of non-potable applications.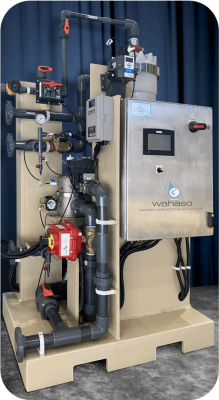 Greywater Systems
---
Greywater (also referred to as graywater, grey water, and gray water) is "gently used" water captured from showers, lavatory sinks, laundry, and light commercial processes. It can often be an excellent source of water, saving thousands or even millions of gallons of water per year. Given the contaminants inherent in greywater, it is important that any grey water systems are designed properly. Wahaso's grey water recycling systems for commercial properties has been certified to meet both IAPMO 324 and NSF/ANSI 350 standards. The Wahaso greywater harvesting system has been tested and proven to provide a safe, treated supply of water that can be used for a variety of non-potable applications.