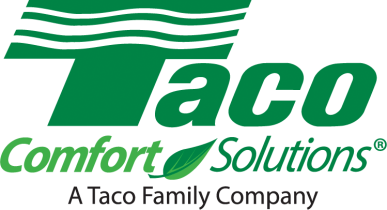 Hydronic Accessories
From its manufacturing headquarters in Cranston, Rhode Island and a fabrication facility in Fall River, Massachusetts, Taco Comfort Solutions® develops and manufactures products and systems for both residential and commercial applications. These include circulators/pumps, valves and controls, air-dirt separators, heat exchangers, buffer and expansion tanks, domestic hot water recirculation and accessory products, and sophisticated building management controls. Diversified Fluid Controls is your South Florida Taco Representative and we're here to help you throughout the design, installation, and preventative care phases of your project.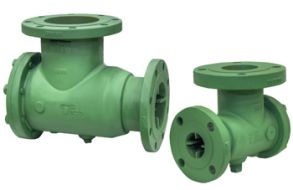 Suction Diffuser
Model: SD
---
The Taco Suction Diffuser incorporates numerous features into one device that simplifies installations and reduces installation costs. It is a flow straightening device that provides maximum flow efficiency at the suction inlet of the pump while at the same time reducing space and fitting requirements and eliminating the need for an equivalent length of ten pipe diameters of straight run on the suction side of the pump. It is an elbow (and in some cases a reducing elbow) with a built in strainer that is easily maintained and will provide years of trouble free system performance.
*Typical Stock Item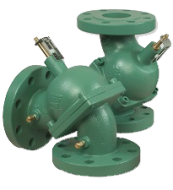 Multi-Purpose Valve
Model: MPV
---
The "Plus Two" Valve offers performance-- low pressure drops that are equal to or better than any valve on the market today--and convenience: You can replace the stem seal packing under full system pressure. The "Plus Two" Multi-Purpose Valve is made of ductile iron with stainless steel and bronze fitted construction to provide years of trouble-free service. It is available in sizes ranging from 1 1/2" through 12", with flanged connections (1 1/2", 2" and 2 1/2" units are threaded connections).
*Typical Stock Item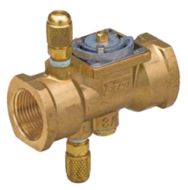 ACCU-Flo Circuit Setter
Model: ACUF
---
With Taco Accu-Flo Balancing Valves, you will experience greater balancing accuracy than ever before. Most conventional balancing valves use a variable orifice that delivers poor balancing accuracy, high pressure drops, low regains, and an inability to read low flows. The Taco Accu-Flo uses a modified venturi design, instead, to deliver four to five times greater accuracy. Flow Measurement is independent of stem and ball position, and the tamper-resistant memory stop provides accurate resetting. With calibrated nameplate for presetting, all-brass interior parts, precision machining and 100% factory testing, these valves are the highest quality fixed-port venturi balancing valve on the market today.
*Typical Stock Item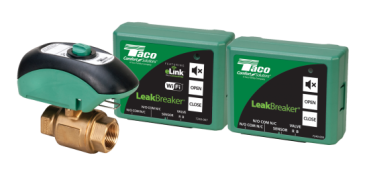 LeakBreaker®
Model: LBW-075-H-1LF, LB0075-H-1LF
---
The Taco LeakBreaker® is a water heater leak protection device that protects against flood damage from the containment failure of a water heater. It consists of a control unit, a valve with actuator and a sensor. This resettable, testable protection device can be installed on any style water heater to shut off the incoming water supply, preventing additional water flow to a damaged water heater. The two-color LED light and audible alarm lets you know the status of LeakBreaker at all times. LeakBreaker featuring eLink™ uses Wi-Fi® to communicate with the cloud, enabling status alerts to be sent directly to the users whenever a change occurs. Notifications are sent via email or text. Alarms will be sent when the device detects status changes for the following: alarm activation, AC or battery power, sensor and valve connection, and module connectivity. Wi-Fi® is a registered trademark of the Wi-Fi Alliance®.
*Typical Stock Item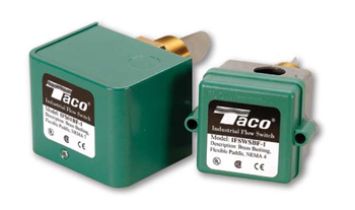 Flow Switches
Models: IFS01BF-1, IFSW2F-1
---
The Taco Industrial Flow Switch (IFS) starts or stops electronically operated equipment when a flow or no flow condition occurs. The IFS can be used in 1'' to 8'' liquid flow lines, carrying water or any nonhazardous fluid not harmful to brass, stainless steel or EPDM. It is used in a wide variety of applications including heating systems, domestic water boosters, process work, water systems, chillers and on low mass boilers. We are the South Florida Taco Flow Switch distributor for common models including IFS01BF-1 and IFSWSBF-1
*Typical Stock Item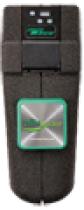 FloodBreaker®
Models: FB075-1
---
The Taco FloodBreaker® is a whole house adjustable leak protection system that monitors several aspects of water usage. It shuts off the water supply once any of the monitored settings are reached. The FloodBreaker is NSF 61-G certified.

Features include:
Programmable Leak Detection Settings
Programmable Vacation Mode Leak Settings
Audible Alarm
Floor Sensor
Output Contact
Input Contact
Operates on Batteries and 9V DC Power Supply
Reduces Property Damage
Push Button Reset
Mounts in Horizontal or Vertical Pipe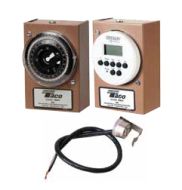 Timer & Aquastat
Models: 265-1, 265-3, 563-2
---
The Timer/Aquastat combination is designed to cycle the circulator during peak demand periods. Use the two devices together or separately. When used together, the Timer switches ON, sending power to the unit. The Temperature Aquastat measures the temperature and cycles the circulator as long as the Timer is "ON." If used separately, the Timer operates the circulator during the chosen number of 15-minute intervals.

When using only the Aquastat, the circulator cycles continuously to maintain a temperature between 95º F. and 115º F. For maximum convenience and flexibility, you can retrofit both to any Taco 00® Series Cartridge Circulator. We are the South Florida distributor for common models including Taco 265-3 and 563-2
*Typical Stock Item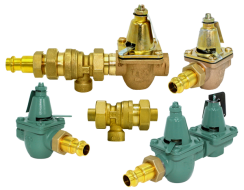 Boiler Feed, Backflow Preventer & Combination Valves
Models: 334-3, 334-T3, 334-H, 329
---
Taco Boiler Feed Valves have set the standard for dependable service. The Backflow Preventer offers added protection, preventing the system from emptying if supply pressure should fail. Coupling dependable service with added protection into one quality product is Taco's Combination Boiler Feed & Backflow Preventer Valve. The Dual Control combines the Boiler Feed with an in-line Pressure Relief Valve.  We are the South Florida distributor for common models including 335 and 334-T3
*Typical Stock Item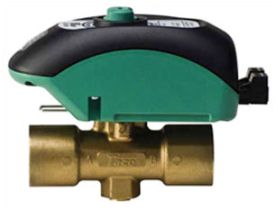 Zone Sentry®
Taco Zone Sentry® Zone Valves provide on-off, normally open or normally closed control in closed hydronic systems. (See Geo-Sentry for open system application.) The valves can be used in a wide variety of heating and condensing cooling applications, primarily designed for use with baseboard, fan coils, radiators, convectors, air handlers, heat pumps and radiant applications.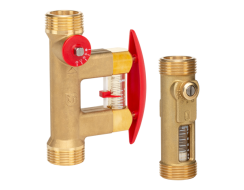 TacoSetter
Models: 7201-3, 7202-3, 7204-3, 7205-3, 7206-3
TacoSetter balancing valves offer a quick, easy and accurate method of adjusting flow rates through closed loop hydronic heating & cooling systems. Correct system balancing ensures optimum energy distribution resulting in more efficient and economical operation. The compact TacoSetter Inline can be installed in tight spaces and continuously delivers a direct flow reading in GPM. The unique design of the TacoSetter Bypass provides minimal pressure loss with a convenient flow rate memory stop.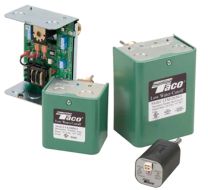 Low Water Cutoff
The Taco Low Water Cutoff (LWCO) provides accurate and dependable protection for all types of boilers, from small residential hot water boilers to large industrial steam units. This probe-style LWCO features patented DualVision Technology, external LED's and simplified wiring for easy installation and testing and automatic, manual reset mode and are available in 24VAC or 120VAC models. The Taco LWCO can act as either the primary or secondary low water cutoff on low-pressure steam boilers, the primary limit control on hot water boilers or to protect pumps from running dry in condensate receiver tank applications. The LWCO can also activate alarm systems or automatic water feeders.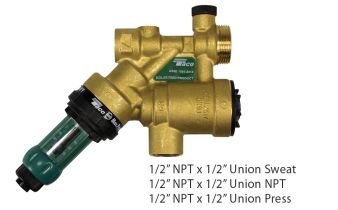 3450 Combination Boiler Feed & Backflow Valve
The integral design of the Taco 3450 Combi Valve combines a cartridge style backflow preventer with a pressure regulating cartridge style boiler feed valve into a unique one piece body configuration. Taco's 3450 combination dual check backflow with atmospheric vent and boiler feed valve with purge auto-reset, dial in pressure setting and adjustable indicator sets a new standard for performance and serviceability.