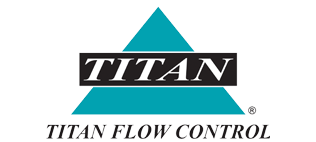 Titan Flow Control
Titan Flow Control, Inc. was established in 2000 by a group of industry veterans with over 300 years of combined experience. Since then, the highly qualified management team has built a solid company that is known worldwide for its quality products and unmatched customer service.
Titan FCI manufactures a wide variety of industrial and commercial piping products including check valves, pipeline strainers, butterfly valves, pump protection products, and additional pipeline accessories. Titan's capabilities even extend to complex fabricated products, custom design units, and specialty screens.
Diversified Fluid Controls is the local representative for Titan Flow Control. We have one of the largest inventories of in stock  y-strainers, check valves, and butterfly valves in South Florida. We distribute through local supply houses so call us today with any questions you may have!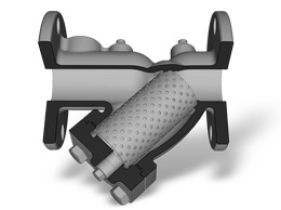 Y-Strainers
Y Strainers (or "Wye Strainers") mechanically remove debris in pipeline with a cylindrical straining element, often called a screen. They can be placed in horizontal or vertical pipelines (downward only) and require regular cleaning of the screen for proper operation.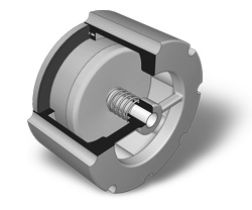 Check Valves
Check Valves are automatic shut-off valves that are commonly used for preventing backflow or drainage in a piping system. Often applied on the discharge side of pumps, check valves prevent the system from draining if the pump stops and protect against backflow, which could harm the pump or other equipment.
Titan Flow Control, Inc. offers a variety of check valve designs to meet your specific needs including Center-Guided Globe Style Valves, Center-Guided Wafer Style Valves, Center-Guided Threaded Valves, Dual Disc Check Valves, and Single Disk Check Valves.
Basket Strainer
Basket strainers are used to mechanically remove debris in pipelines with a straining element that is shaped like a basket. Basket Strainers are typically used in horizontal pipelines. In most cases, they provide more open area for debris collection than a Y strainer and need less frequent cleaning.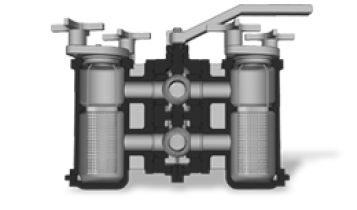 Duplex Basket Strainer
Titan's Duplex Strainers are high quality, compact units, ideal for non-interruptible applications. They are easy to operate and maintain with no special tools required to remove the straining element from the chamber. Two basket chambers and a flow diverter system allow the pipeline flow to be switched from one chamber to the other, isolating the flow to a single chamber and allowing the inactive chamber to be cleaned without shutdown. Titan Duplex Strainers are available with threaded and flanged ends in a variety of materials. All cast iron and carbon steel units are epoxy painted to resist rust.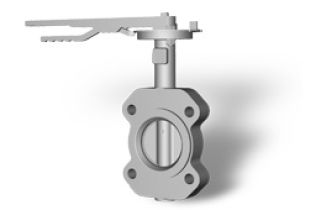 Butterfly Valves
Butterfly Valves are lightweight, quarter-turn valves used for regulating or isolating pipeline flow. Titan Flow Control offers them in Wafer (Cast Iron) and Lug (Ductile Iron) styles.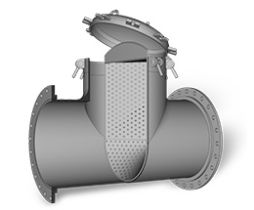 Fabricated Products
Don't see what you're looking for? Fabricated products provide additional flexibility and design options for unique applications. Our highly experienced engineering team and fabrication department is customer-focused and detail-oriented, ensuring that a Titan fabricated product will not only meet the needs of your application, but will be of the highest quality.
Foot Valve
A foot valve is a special type of check valve that has a built-in strainer. Foot valves are installed at the intake side of a suction pipe and pump, preventing the loss of prime when a liquid source is lower than the pump and helping to remove unwanted debris from the liquid that may damage the pump.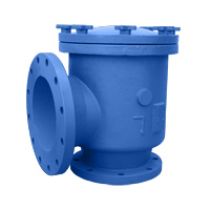 Suction Diffuser
Titan Flow Control's Suction Diffusers function as strainers, helping to prevent debris from harming a pump. They save space, maintenance time, and money as they replace a 90 degree elbow, a strainer, and an entry pipe. Straightening vanes reduce turbulence in the flow and alleviate stress and erosion on the pump.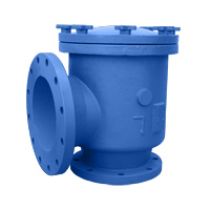 Tri-Flow Control Check Valves
Tri-Flow Control Check Valves are spring-loaded valves that can be adjusted from full flow to complete shut-off. They function as balance valve, shut-off valve, and a check valve.